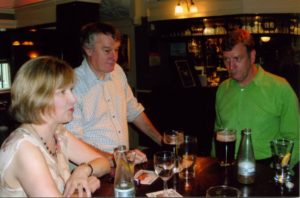 For more than nine years The Albion was the premier venue for afternoon jazz in Hove. All good things come to an end and The Albion was no exception to the rule. The year had already been tinged with sadness, with several seemingly permanent fixtures departing. In May the jazz sessions lost one of their stalwarts when Pat Turpin died. The wake, naturally enough, was held in the Albion and most of the regular musicians turned up to play. In August another regular Jo Hunter, who had been one of the best trumpet players in Britain, also died. Again the wake was held in the Albion. And again the pub was packed with musicians.
In the meantime Jeff Fisher, who had been the landlord of The Albion for 35 years, sold the pub. The afternoon jazz session continued under new management but on 31st December the pub closed for extensive refurbishment, leaving the jazz sessions without a home.
The final gig on 19 December was attended by a large crowd. A quartet, with George Levy on reeds and flute, Mick Hamer on piano, Nils Solberg on guitar and vocals and Gerry Higgins on double bass played the final gig. Among the sitters in were Lawrence Jones on piccolo and vocalists Jo Kimber and Juliette Devereau. For the final number on the final session Nils Solberg sung the Slim Gaillard favourite, Dunkin' bagels.
Even if the Albion has gone the Monday afternoon jazz sessions continue. Since 23rd January the Paris House in Western Road has become the new venue for Jazz on a Monday Afternoon.