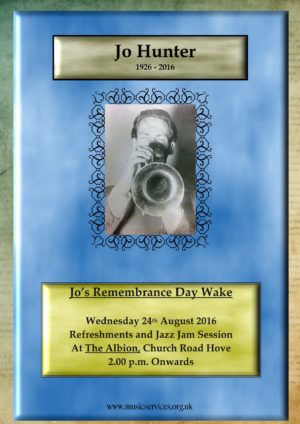 Dozens of the best musicians in Brighton came to the Albion yesterday to play at the wake of ace trumpeter Jo Hunter. They were some of Jo's favourite musicians. It was Jo's regular pub.
Jo Hunter was one of the pioneers of bebop in Britain. He played and recorded with Kenny Graham's Afro-Cubists in the 1950s before joining the big bands of Roy Fox and Jack Parnell. Even in his 80s he was still playing fluently–always brim full of ideas and with an encyclopedic knowledge of jazz standards.
He stopped playing in public because of trouble with his teeth about two years ago but he was still active and a regular face in at the Albion's jazz gigs, a music lover to the end. Jo died peacefully at home on 14th August at the age of 89.
Many of the musicians who worked with Jo over the years joined the jam session. Among the front line musicians were Andy Woon on his pocket trumpet, George Levy on clarinet, Mike Piggott on violin, Robin Watt on tenor, Tim Wade on trombone. The rhythm section included bassists Gerry Higgins, Dan Sheppard and Nick McGuigan, Piers Clark , Jason Henson and Nils Solberg on guitar while the drum stool was shared by Dan Breslaw and Brian Walkley, who first worked with Jo in the 1960s. Richard Holmes, Steve Ashworth and Mick Hamer took turns at the piano. Three vocalists completed the ever changing line-up: Juliet Devereaux, who sang Good Morning Heartache, one of Jo's regular requests, Sara Oschlag and Rachel Bundy, who rounded off the session with My Foolish Heart.
Jack Honeyborne, who played piano with Jo on Kenny Graham's 1951 recordings, sent his apologies. Jack, who is 88, couldn't attend because he had an afternoon gig in London.
After the musicians packed up and the pub began to empty. Piers Clark and Jim Heath on banjo, began their own impromptu jam session entertaining the survivors before they went unsteadily into the bright sunshine in search of the nearest bus stop.