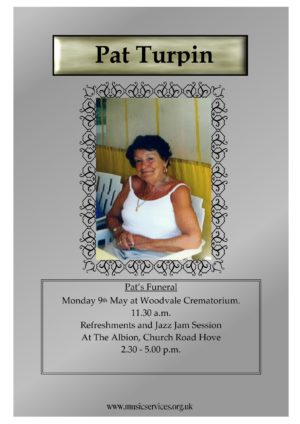 Pat could not have wished for a better send-off. The cream of local jazz musicians turned up to jam for Pat at the Albion in Hove on Monday and celebrate the life of one of their most loyal fans.
Pat was someone who enjoyed life to the full and always seemed to have a twinkle in her eye. She was a keen jazz fan and a lover of Duke Ellington's music. She was a regular face at the old Havana restaurant, before it closed, at the Six Bells at Chiddingly and the Albion's afternoon sessions.
Even though she was nearly 87 she still made the twice-weekly trip to the Albion, come rain or come shine, to listen to her favourite music. She died of a heart attack three weeks to the day before her funeral. Typically she was all dressed up and ready to set off for the Monday afternoon session at the Albion. She never made it.
Her favourite tenor player, Al Nicholls and Nils Solberg on guitar provided the music at the funeral. It was an all-Ellington affair. They played the coffin in with Mood Indigo and finished the proceedings with Satin Doll, one of Pat's most frequent requests. In between, the mourners listened to a recording by Johnny Hodges and Duke Ellington of The star-crossed lovers, which was written by Duke Ellington and Billy Strayhorn.
Back at the Albion, Al and Nils were joined by Gerry Higgins, on bass and George Levy on clarinet, soon to be augmented by Andy Woon on pocket trumpet, Piers Clark on rhythm guitar and on piano Pete Godfrey, who is married to Pat's niece Linda. Some of the Albion's regular vocalists got up to sing with the band. Jo Kimber continued the Ellington theme with In a mellow tone and Juliet Devereaux sang Autumn Leaves.
It was a convivial afternoon where the musicians could do what they do best, talking, drinking and occasionally playing. Jeff, the Albion's landlord kindly provided food for the wake.
For the final session Mick Hamer took over on piano and a seven-piece band assembled to play another version of Mood Indigo, with the front line providing some suitably ducal three-part harmony. Finally Annie Schutt sang Fine and Mellow, the blues that is always associated with Billie Holiday.
It was a very well-attended session and most of the regulars knew Pat well. The demands for an encore proved irresistible. And Nils restored a sense of the ridiculous with Slim Gaillard's Flat foot floogie (with the floy floy).