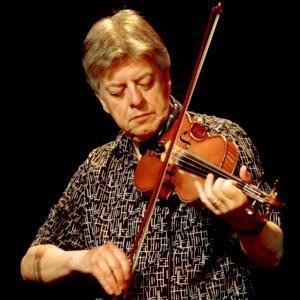 Jazz violinist extraordinaire Mike Piggott was nominated for the British Jazz Awards in 2012—the jazz world's equivalent of the Oscars. On Monday he joined the Mick Hamer trio for another swinging afternoon session at the Albion, in Hove. An enthusiastic crowd, who had gathered to listen to the gig, were rewarded by a virtuoso performance from Mike Piggott.
In the middle of the group's second set a sound like a rifle shot startled the audience. It was the sound of Gerry Higgins' bass. The bridge had suddenly collapsed. Without missing a beat Mike Piggot and Mick Hamer finished playing Besame Mucho and then played the next three numbers was a duo while Gerry reassembled and retuned the bass. For the bridge to collapse on a bass  is unusual, but not unknown. It once happened to the legendary American bassist Ray Brown on live television.
Once the trio was back in action local singer Juliet Devereaux joined the band for a couple of numbers.